Elina Gesangscoach @ElinaLaivera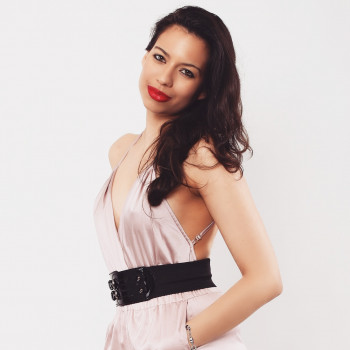 Nachricht schreiben
Unterrichtsfächer
Gesang, allgemein
Songwriting
---
Unterrichtet an folgenden Orten
DE-45891 Gelsenkirchen-Erle
DE-45144 Essen
---
Links
Hello there :)
I am Elina, a voice specialist and meditation teacher. I educate new and seasoned singers on voice technique, mindset and leading a balanced lifestyle that honors both an artist's professional and human needs. ​In my teaching I mix up singing and mindfulness to help boost your performance and reconnect to the joy of being an artist.
I am a professional voice instructor and an active recording artist. I have been working as a singer, songwriter and touring musician for over 15 years now & I am currently based in Germany.
I have been super passionate about doing music since... well, really early! I started taking piano lessons at about 6 and through the years I went on to study subjects such as European and Byzantine Music Theory & Notation, Solfege & Dictee, Classical Flute, the Saz and more.
​I went on tour professionally for the first time aged 14 and since then I have had 12 very successful releases worldwide, toured several countries & played wonderful theaters, stages & clubs with a great variety of ensembles, orchestras and bands.
​Through my career I was blessed to work and appear on the same releases with some very special people (Mistheria - Bruce Dickinson, Anna Portalupi - Fergie/Steve Lukather, Rick Wakeman - YES, Mark Jansen - EPICA, Yan Memmi - Bryan Adams/Dido/Ronnie James Dio, Universal Mind Project, Athens Choir Ensemble, Eklipsis Voice Orchestra to name a few).
​In 2018 I quit my career in metal music and focused on releasing my singer/songwriter material independently after years of having been under a record label.
I have studied classical and modern singing (National Conservatory, Athens, Greece), ​educated myself on World Music (James Cook University, Australia) and since 2017 I am a ​Certified Specialist on Vocal Styles (Berklee College of Music, Boston, USA).
​In nerdy terms, I am a soprano coloratura with nearly 4 octaves of vocal range.
I started coaching vocalists out of passion for helping fellow singers find their own, unique voice and help others express their authenticity with tools I wish I had been given when I was starting out.
For the past years I have been leading workshops and doing seminars both privately as well as in cooperation with state funded music projects and private music academies.
I am a qualified mental health ambassador and I advocate for mental health through my teachings helping aspiring artists not get sidetracked by the stressful lifestyle that often comes with being in the spotlight as a creative individual.
• 360 VOCAL TECHNIQUE
• STAGE PRESENCE & OVERALL PERFORMANCE COACHING
• MICROPHONE TECHNIQUE
​• VOCAL IMPROVISATION
• STYLISTIC APPROACH & EXPRESSION
• RECORDING SESSIONS IN OUR PROFESSIONALLY EQUIPPED STUDIO
​​​• MINDSET & SELF-CONFIDENCE
In my lessons I utilize and share a variety of holistic tools while still staying rooted in grounded & efficient vocal technique. Great emphasis is given on vocal health.
​
​My teachings are adjusted upon and inspired by my students' needs - I don't just teach everyone the same things as we are all so different and individual. Some days we focus more on vocal technique while other days we focus on mindset coaching according to what the student needs on that particular day. ​Sure, we do some talking to explain concepts and research each student's individual processes but we still actually get to take tones of practical action.
In our professionally equipped music studio students are able to record themselves. ​This way you remain inspired to track your progress and you also get to have a product in your hands such as your own voice demos either with full backing tracks or piano accompaniment. You can record covers of your favorite songs or songwriting ideas of yours.
Alternative tools used (though not obligatory) include mindfulness and meditation, body awareness, mind-body coordination exercises, chanting, present moment awareness a.o.
200€ / Monat (4 bis 5 Treffen monatlich)
---
Bilder
---
Videos
---
musiker-sucht.de